2022 National Show Results
In 2022 the 19th National Cocker Spaniel Championship show was hosted by the Cocker Spaniel Club of Victoria Inc.
The judge was Mrs Susan Young (UK) Canyonn Kennels. The show entry was 146. (65 Dogs and 81 Bitches)
Classes were split into Solid and Any other Colour (AOC) and were offered in: Baby, Minor, Puppy, Junior, Intermediate, Australian Bred, Bred by Exhibitor, Open, Veteran 7+ and Neuter.
Our Judge Mrs Susan Young also provided a judges critique of the show.
| | |
| --- | --- |
| Best in Show | Runner up Best in Show |
| Bathgate Beat Box (AI) | Ch Glenayden Blackberry Gin |
| Owned by Ann Byrne | Owned by Ann and Dennis O'Keefe |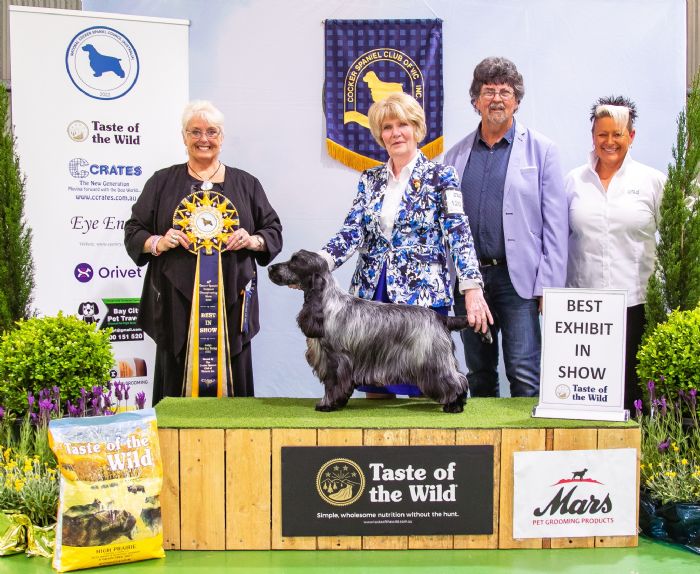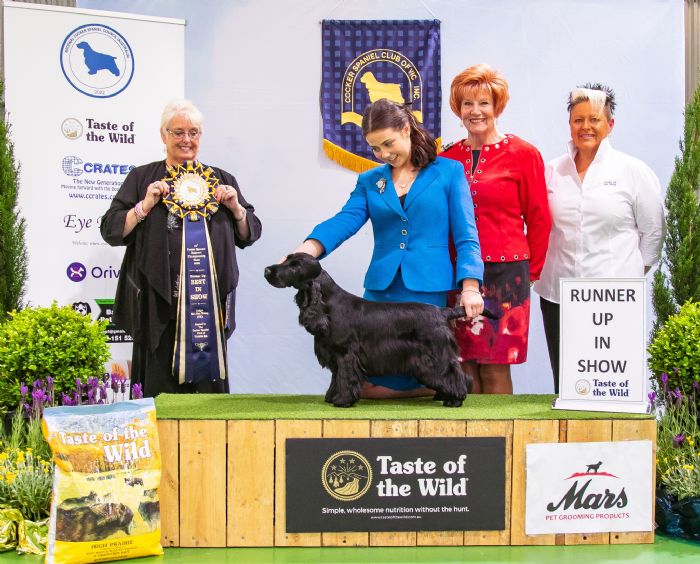 Class winners included:
Best in Show

Runner Up Best In Show

Best Opposite Sex to RUBIS

Dog Challenge

Bitch Challenge

Reserve Challenge Dog

Reserve Challenge Bitch

Baby Puppy in Show

Runner up Baby in Show

Minor Puppy in Show

Runner up Minor Puppy in Show

Puppy in Show

Runner up Puppy in Show

Junior in Show

Runner up Junior in Show

Intermediate in Show

Runner up Intermediate in Show

Aust. Bred in Show

Runner up Aust Bred in Show

Bred by Exhibitor

Runner up Bred by Exhibitor

Open in Show

Runner up Open in Show

7+ yrs Veteran in Show

7+ yrs Runner up Veteran in Show

Neuter in Show

Runner up Neuter in Show

Bathgate Beat Box - Byrne

Ch Glenayden Blackberry Gin – O'Keefe

Ch/ Eng Sh ch Kyna Albert Tatlock (ImpUK) - McFadden

Bathgate Beat Box – Byrne

Glenayden Blackberry Gin – O'Keefe

Ch/ Eng Sh ch Kyna Albert Tatlock (ImpUK) - McFadden

Tarrrendayle Shes Worth It (AI) - Dennis

Barbet Queens Jubilee (AI) - Woodward

Tarrendayle Baby Got Back - Dennis

Tarrendayle Take My Breath Away - Dennis

Baryroan Carnival of Mischief- Newbold

Glenayden Blackberry Gin – O'Keefe

Bolwarra I Will Be Magic – Markotany / Hawkins

Ch Esqueen Handbags and Gladrags (Imp POL) Vowell/Landy

Ch Bathgate My Heart Skipt A Beat (AI) – Douglas

Glenayden Frozen Whisky – O'Keefe

Belcroft Walk on the Wild Side – Raine / Glass

Bathgate Beat Box – Byrne

Britebay Penny Farthing (AI) - Britebay

Ch Belcroft Walking In The Rain - Bellamy

Ch Ravensnite Betya Bottom Dollar - Ugrinic

Ch Glenayden Amarula - O'Keefe

Gr Ch Britebay Black Bindi - Britebay

Ch/ Eng Sh ch Kyna Albert Tatlock (ImpUK) - McFadden

Sup Ch Barbet Back To You Jealous Ones - Woodward

Nu Ch Drumprintt First Kiss - Hughes

Nu Ch Romark Bea Pippa Sue – Mellett
2022 placings

Dogs

Bitches

AOC Baby puppy dog (entry 6)

AOC Baby puppy bitch (entry 11)

Ravensnite American Pied - Ugenric

Barbet Queens Silver Jubilee - Woodward

Ravensnite American Gigolo For Madanwitt - Ugenric

Carlandy Got The Look at Glenayden - Dolphin

Robmond Antipodean Moon - Robinson

Pinewaite Its Gotta Be Me - Byrne

Solid Baby puppy dog (entry 3)

Solid Baby puppy bitch (entry 2)

Ravensnite Betya All Talk - Ugenric

Tarrendayle Baby Got Back - Dennis

Britebay Firecracker At Teemstar - Matthews

Brayroan Tik Tok Boom - Newbold

AOC Minor puppy dog (entry 2)

AOC Minor puppy bitch (entry 3)

Bathgate By Design - Douglas

Brayroan Carnival of Mischief - Newbold

absent

Tarrendayle Leaveme Breathless-Dennis

Britebay Kiss N Tell- Crocker

Solid Minor puppy dog (entry 3)

Solid Minor puppy bitch (no entries)

Tarrendayle Takemybreath Away - Dennis

Kalleo Solid Rock - McLennan

Brayroan Mischief N Mayhem - Newbold

AOC Puppy dog (entry 4)

AOC Puppy bitch (entry 5)

Bolwarra I Will Be Magic – Markotany/ Hawkins

Tarrendayle Tri and Resist Me - Dennis

Bolwarra Tunza Class - Markotany

Braycharm Foreign Finesse - Bray

Braycharm Foreign Affair - Bray

Robmond Luna Inamorata - Robinson

Solid Puppy dog (entry 2)

Solid Puppy bitch (entry 2)

Sunlore Sahara Sands - Byrne

Glenayden Blackberry Gin – O'Keefe

Carawood Classic Cliché – Hardy

Carawood Carbon Copy (AI) - Hardy

AOC Junior dog (entry 6)

AOC Junior bitch (entry 9)

Ch Esqueen Handbags and Gladrags (Imp Pol) – Vowell/ Landy

Ruebethan Blue Late September- Byrne

Ch Bathgate My Heart Skipt A Beat (AI) – Douglas

Ludwood Against the Flow – St Clair

Robmond Midnight Runner - Robinson

Ch Bathgate Summer Hit (AI) - Douglas

Solid Junior dog (entry 2)

Solid Junior bitch (entry 3)

Ch Britebay William Tell - Britebay

Tarrendayle Shes Worth It– Dennis

Madanwitt Keepin It Legal at Tarrendayle – Dennis

Twnroyal Liza With a Z - Jones

Pencandy Twilight - Crocker

AOC Intermediate dog (entry 7)

AOC Intermediate bitch (entry 6)

Glenayden Frozen Whisky – O'Keefe

Ch Braycharm Causing A Commotion- Bray

Belcroft walk On the Wild Side - Bellamy

Murrangowar Sounds Of Silence (AI) – Wade

Ch Robmond Silver cloud - Robinson

Ch Bolwarra Walks Like an Angel – Markotany

Solid Intermediate dog (entry 3)

Solid Intermediate bitch (entry 2)

Ch Tarrendayle This Cant Be Legal - Dennis

Dawnglow In a League of Her Own For Ravensnite - Ugrinic

Murrangowar Raffaello (AI) - Wade

absent

Amamoor Super Trouper - Vincent
2022 placings cont'd

AOC Australian Bred dog (entry 5)

AOC Australian Bred bitch (entry 6)

Bathgate Beat Box - Byrne

Ch Glenbriar Royal Scandal – Mc Fadden

Ch Glenayden Frozen Soda – O'Keefe

Ch Belcroft Business As Usual -Bellamy

Ch Belcroft Free To Fly – Raine/Glass

Ch Bolwarra Pina Colada - Markotany

Solid Australian Bred dog (entry 1)

Solid Australian Bred bitch (entry 4)

Ch Britebay Bobby Crocker – Crocker

Britebay Penny Farthing - Britebay

Tarrendayle Catch and Kiss - Dennis

Ch Bolwarra Dressed for Success - Markotany

AOC Bred by Exhibitor dog (entry 1)

AOC Bred by Exhibitor bitch (entry 4)

Ch Bolwarra Spinning Wheel – Markotany

Ch Belcroft Walking In The Rain - Bellamy

Ch Neberden Riders on the Storm - Neiberding

Ch Bellebriar Under The Msitletow - Hatherly

Solid Bred by Exhibitor bitch (entry 1)

Solid Bred by Exhibitor bitch (entry 4)

Ch Ravensnite Betya Bottom Dollar - Ugenric

Ballyoroan Blackout - Byrne

Brayroan Mischievous Chance - Newbold

Ch Britebay Invincibella - Britebay

AOC Open dog (entry 8)

AOC Open bitch (entry 8)

Ch Royal's Friend ECS Wish granted (Imp Hun) – Bray

Ch Glenbriar Fine Romance – McFadden

Sup Ch Glenayden Star Gazer – O'Keefe

Glenbriar Summer Haze – Douglas

Ch Cleemist Blue Haze - Drekovic

Ch Barbet Christmas Angel (AI) - Woodward

Solid Open dog (entry 2)

Solid Open bitch (entry 4)

Am Ch Dawnglow Playing The Field at Tarrendayle (Imp USA) - Dennis

Ch Glenayden Amarula – O'Keefe

absent

Gr Ch Britebay Black Bindi - Britebay

Ch Twnroyal Allthegoldismine - Jones

AOC Veteran dog 7+years (entry 5)

AOC Veteran bitch 7+years (entry 2)

Ch Eng Sh Ch Kyna Albert Tatlock – McFadden/ Drekovic

Sup Ch Belcroft Dream A Li'l Dream - Bellamy

Sup Ch Barbet Back To You Jealous Ones - Woodward

Gr Ch Bellebriar Time Share - Kingston

Sup Ch Glenayden Nick of Time – Job/Jones/ O'Keefe

Solid Veteran dog 7+years (entry 1)

Solid Veteran bitch 7+years (entry 4)

absent

Ch Canigou Brigh Tan Beautiful (Imp UK) - Hardy

Gr Ch Britebay Witchs Brew - Britebay

Gr Ch Wysiwyg Breezn Thru Texan Law - Mellett

AOC Neuter dog (entry 1)

AOC Neuter bitch (entry 1)

absent

Nu Ch Drumprintt First Kiss - Hughes

Solid Neuter dog (entry 2)

Solid Neuter bitch (entry 1)

Britebay Salvation - Britebay

Nu Ch Romark Bea Pippa Sue- Mellett

Ch Nu Ch Espaniel Matariki Star (Imp NZ) - Mellett