National Cocker Spaniel Championship Shows
The first Cocker Spaniel National Championship Show was held in Victoria in 1985.
Every two years a Cocker Spaniel National Championship Show is hosted by a member state-based cocker spaniel specialty club.
The Judge is chosen by the hosting Club from the UK 'A' Judges list, and considered a Cocker Spaniel specialist.
At a National Show, the dog and bitch classes are judged on separate days and may be split into AOC (any other colour) and Solid (solid colours). Split classes are not a requirement, the host club makes that decision. Classes can include baby, minor, puppy, junior, intermediate, australian bred and /or state bred and /or exhibitor bred, open, veteran 7 - 10 years and 10 + years. Since 2016 neuter class has been added to the schedule. A breeders team class may also be included.
Written critiques are provided for all placegetters and generally as the shows are so large, there may be up to 5 placegetters in any class.
To win a class at a National is a wonderful achievement, and to win the Best in Show award would be the pinnacle for any breeder or exhibitor.

Results for each of the National Championship shows are listed on a separate pages.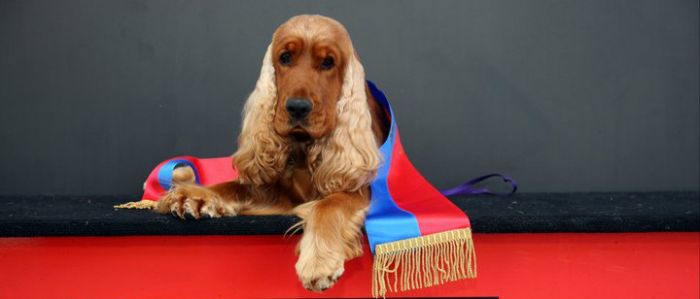 The next and 20th National Cocker Spaniel Championship Show will be hosted by the Cocker Spaniel Society of NSW in Sydney during May 2024.
List of host states: National Cocker Spaniel Championship Shows 1985 to present:
2026- Queensland
2024 - New South Wales
2022 - Victoria
2020 - ACT Cancelled due to COVID-19
2018 - Queensland
2016 - New South Wales
2014 - Victoria
2012 - Australian Capital Territory
2010 - Queensland
2008 - New South Wales
2006 - Australian Capital Territory
2004 - Victoria
2002 - Australian Capital Territory
2000 - Queensland
1998 - South Australia
1996 - New South Wales
1994 - Queensland
1993 - Australian Capital Territory
1992 - Victoria
1990 - South Australia
1998 - New South Wales
1985 - Victoria

**Photo published with permission